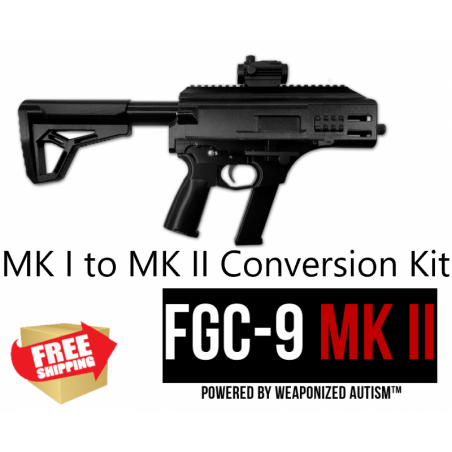  
FGC9 Mark I to Mark II Conversion Kit
Everything you need to convert a Parts Dispensed FGC-9 MK I Kit to the FGC-9 MKII.
For a complete build, you will need to select a Fire Control Group and either RP9 Barrel or 4.5" Hydraulic Tube, if you haven't yet done so.
If purchasing the RP9 Barrel, you will have to source the adapter files from online.

Kit does not ship to NJ or International.

Quality Assurance
All our Kits are backed by our 100% Quality Guarantee.

Delivery Policy
We ship our products via USPS to save you money.
Kit includes:
Neodymium Magnet 20x10x2mm    -    1
5mm Hex/Allen L-Key (Overall length: 82.5mm, Short leg: 25mm)
    -    1
Socket Head Screw M3 DIN 912, 30mm    -    1
Nuts M3 DIN 934    -    2
Socket Head Screw M3 DIN 912, 16mm    -    8
Brass hot melt inserts    -    4
Customers who bought this product also bought:
14 other products in the same category:
No customer reviews for the moment.