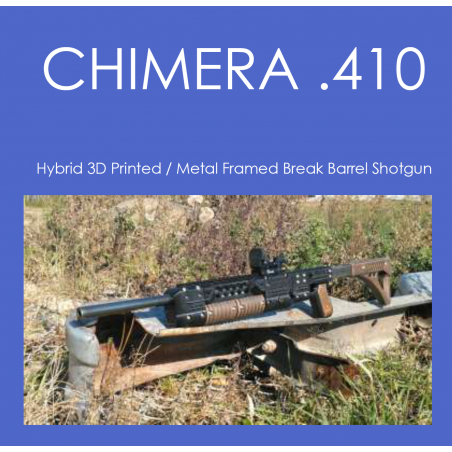  
Chimera Kit - 410 Shotgun
Pilotgeek's Chimera is a Hybrid 3D Printed / Metal Framed Break Barrel Shotgun.
Due to legal requirements, this kit DOES NOT include the steel box tubing. THIS KIT REQUIRES SEPARATE PURCHASE OF BOX TUBING PER THE GUIDE.
A portion of every kit is donated to the developer.
| | |
| --- | --- |
| Parts | Included |
| M5x16 Bolts | 38 |
| M4x8 Grub Screw | 16 |
| M5x40 Bolts | 4 |
| M3 Set Screw | 1 |
| JB Weld | 1 |
| Grease | 1 |
| 3mm Rod | 40,60,63mm |
| ¼" Rod | 50,62mm |
| ¾" x .156" DOM tubing, 22" Long | 1 |

Quality Assurance
All our Kits are backed by our 100% Quality Guarantee.

Delivery Policy
We ship our products via USPS to save you money.
IMPORTANT INFO. PER THE MANUAL:
"This product is not print-in-place. This design requires skilled machining and assembly of additional components for complete assembly. You will need a rotary tool with cutoff wheel at minimum. These plans are intended for educational purposes only and assembly is at your own risk.

The Chimera is intended to shoot .410 shells, and has been tested only with them. Alternate barrels may be possible at your own risk.

The Chimera is an experimental hobbyist project. It is not designed to be carried, and it is not intended for self-defense. The current design does not feature proper modern safeties and should be used in a controlled environment with careful handling.

These plans are provided as-is. They should be treated as a novelty, and nothing more. These files are not an actual gun, they are CAD files depicting design of a handgun. They require skill and knowledge to make into a functional object. You are responsible for knowing the laws regarding firearms where you live. Before building, please read up on all applicable gun laws and decide for yourself whether or not you can legally build this where you live."
Customers who bought this product also bought:
16 other products in the same category:
No customer reviews for the moment.