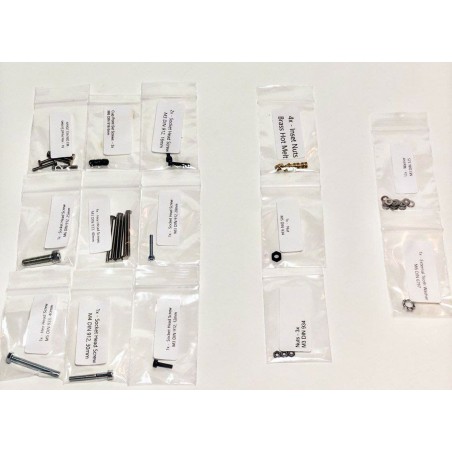  
FGC9 MK I Fastener Set
FGC9 Fastener Set. Includes Everything Shown in the photo.
You will still need to source the steel, springs and barrel separately to complete your build. Consider our full kits for an all-in-one solution.
Detailed Breakdown:
Socket Head Screw M3 DIN 912, 12mm
Hex Head Screw M5 DIN 933, 40mm
Socket Head Screw M4 DIN 912, 30mm
Nuts M3 DIN 934 - 3x
Nuts M5 DIN 934
Cup Point Set Screws M6 DIN 916 6mm - 3x
External Tooth Washer M6 DIN 6797
Socket Head Screw M6 DIN 912
M3 DIN 125 Washer - 12x
Hex Head Screw M3 DIN 933, 40mm - 6x
Hex Head Screws M3 DIN 933, 20mm - 6x
Socket Head Screw M3 DIN 912, 16mm - 2x
Socket Head Screw M3 DIN 912, 20mm
Brass hot melt inserts - 4x

Quality Assurance
All our Kits are backed by our 100% Quality Guarantee.

Delivery Policy
We ship our products via USPS to save you money.
Customers who bought this product also bought:
16 other products in the same category:
No customer reviews for the moment.